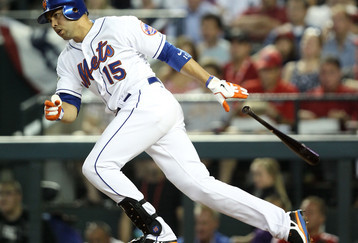 ARLINGTON -- Carlos Beltran is headed to San Francisco after the defending world champions once again beat the Texas Rangers, this time with a trade offer to the New York Mets.
"We're not getting him," a Rangers official said.
A deal for the outfielder was always thought to be a long shot for the Rangers, though the depth in their farm system makes just about any deal a possibility.
But the Rangers weren't willing to include a top prospect for a luxury item, especially since Beltran can't be offered arbitration once he becomes a free agent after the season.
A free-agent-to-be who can be offered arbitration, Heath Bell, sits atop the Rangers' target list as the non-waiver trade deadline bears down on them. The bullpen, as it has been for the past month, remains the top priority before Sunday afternoon.
"We need reinforcements," manager Ron Washington said. "We're at the trading deadline. We're going down the stretch. Everybody's intent on making their team better. We need to make our team better."
Washington was quick to remind the assembled media Wednesday that he isn't down on his team.
The bullpen, he said, has been doing better. The issue is that some of the relievers don't have a proven track record.
Bell does. He was the set-up man to Trevor Hoffman in San Diego before replacing the all-time saves leader.
Bell, who made his third straight All-Star team this month, said he is willing to return to an eighth-inning role if it means a chance at the playoffs.
The Padres are interested in Double A left-hander Robbie Erlin, who has blossomed into a top-five Rangers prospect.
Florida closer Leo Nunez is also held in high regard among some Rangers.
The Marlins are seeking a third baseman or a center fielder for Nunez, who isn't eligible for free agency until 2013.
Chris Davis could be a fit in Florida or San Diego. A week ago, he thought he would be traded. Now that Adrian Beltre is injured, Davis isn't sure if the Rangers would risk trading away some of their corner-infield depth.
"Right now I don't know what to expect," said Davis, who previously has suggested that a trade might be in his best interests. "My goal is to play in the big leagues and to play every day in the big leagues."
The bullpen allowed three runs in a 9-8 loss Tuesday night. Two of those were surrendered in the ninth inning by Neftali Feliz, who has five blown saves a year after squandering only three.
Washington wants to see more urgency from Feliz, who said the fire is there but his calm demeanor on the mound is a result of a high level of confidence.
Feliz would also support any deal the Rangers make for a reliever.
"I'd be happy because they would be doing it because they want us to win," he said. "We want to go back to the World Series."