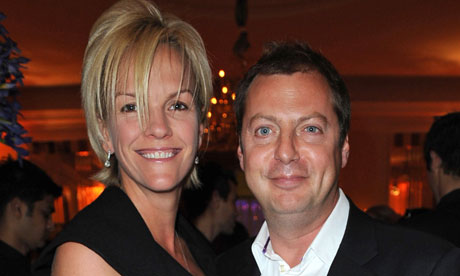 "It looks like Watergate - except the press are the bad guys," says journalism professor Chris Harper.
He's talking about the News of the World scandal in Britain, now engulfing the media empire of Rupert Murdoch and destroying careers right and left. Tuesday, Murdoch, his son James, and former executive Rebekah Brooks face questions before the House of Commons.
The whole affair shows, in an increasingly complex and competitive information age, how blurred lines can become between news media and those they cover.
And if the scandal should reach these shores, some fear it could have First Amendment repercussions.
Harper, codirector of the Multimedia Urban Reporting Lab at Temple University, says he, like many others, is watching with disbelief as reports unfold of hacking, phone tapping, and payment to police sources.
The scandal has closed Murdoch's London paper News of the World after 168 years in print and has come to shadow all his U.K. papers. Paul Stephenson, head of Scotland Yard, quit Sunday over links between senior police and the U.K. division of Murdoch's media empire, News Corp.
Les Hinton, chief executive of Dow Jones & Co. and publisher of the Wall Street Journal, resigned Friday; he was chairman of Murdoch's British newspaper operation when some of the abuses allegedly occurred. (News Corp. properties in the United States include Fox News and the Journal.)
The scandal even involves Prime Minister David Cameron, who for a time employed former Murdoch executive Andy Coulson as his media adviser.
"It is just inconceivable to me," Harper says, "that journalists who are supposed to be grown-ups can actually engage in this travesty of ethical procedures and guidelines, and that police can help them. I've really never seen anything this bad in my 40 years in journalism."
Harper says U.S. journalism has seen scandals before, such as with Janet Cooke, the Washington Post reporter who won a Pulitzer Prize and then was fired and disgraced for faking her work. "But this scandal," he says, "is going to be hard to top in my lifetime."
To what extent is Murdoch accountable? Or is this a symptom of a broader crisis in journalism and society?
Some experts see Murdoch's hand: his aggressively, carefully constructed mega-empire; his hard-hitting, precipice-defying brand of journalism. "His papers push the edges of what's allowable, that's for sure," says Al Felzenberg, visiting lecturer at the Annenberg School for Communication at the University of Pennsylvania.
"There's little question terrible crimes were committed here," Felzenberg says. A private investigator, Glenn Mulcaire, allegedly was hired to hack into the phone mail of murdered schoolgirl Milly Dowler. Felzenberg calls that "heinous, as are reports of the bribing of policemen. And the close ties between the British government and Murdoch's papers went beyond all acceptable boundaries."
"The problem is, Murdoch's hand is in too many places," says Barbie Zelizer, professor of communication at the Annenberg School. "A news organization with as many organs in as many places, with as many potential audiences as Rupert Murdoch has - that's the problem." She says Murdoch had lobbied for years in the United States to relax restrictions on laws governing media holdings, with great success.
Zelizer and others see a much bigger problem: The old walls of separation have fallen down. "This is yet another instance," she says, "of how blended and hard to follow are the lines separating the different spheres of power, media, government, law enforcement, and the celebrity world. We really have to reassess the fundamental ways news works."
"These days," says Felzenberg, "journalists become part of government, politicians become journalists, and, of course, every journalist from [Fox News'] Bill O'Reilly to [MSNBC's] Mika Brzezinski become celebrities." In such a hopelessly entangled, ethically obscure media world, trouble is waiting to happen. "In a competitive environment," Harper says, "this rotten foundation can lead to excesses . . . and if it's questioned, you often get told, 'If we don't get the story this way, someone else will.' "
Kelly McBride, senior faculty member in ethics, reporting, and writing at the Poynter Institute, says that while there have been scandals in U.S. journalism, "our scandals tend to be singular in nature, rather than systemic. Even if they do involve criminal behavior, they tend to be the actions of one person rather than systemic collusion."
As for these shores, the FBI is investigating allegations that News Corp. reporters tried to hack into the phones of the families of 9/11 victims; one policeman has reported a bribe attempt. The actor Jude Law says he and an assistant had their mobile phones hacked while they were on U.S. soil, opening up possible grounds for U.S. prosecution.
As Murdoch sits down before the House of Commons, Harper is wary of a similar spectacle here: "I think it's a dangerous thing for the media to appear on such important issues before a government body. It allows government to seek redress over the media. That could reach to the foundations of the First Amendment."