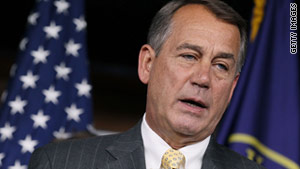 Today, the Speaker of the House of representatives abandoned debt ceiling negotiations, while putting the entire House on recess for the weekend. He did not return White House phone calls until after 5 pm, only to explain that he was now rejecting any plan of any kind that would raise taxes by any amount. After moving toward a credible compromise that would involve serious debt and deficit reduction, Boehner suddenly returned to the radical "starve the beast" anti-tax policy of Grover Norquist.
Shortly after 6 pm EDT, Pres. Obama addressed the press, and took questions, explaining his plan to get back to the negotiating table. Somewhat incredibly, CNN followed its analysis of the press conference by holding a phone interview with Grover Norquist, who acted as spokesperson for Speaker Boehner. Norquist explained that for seven months, it has been clear that Boehner was not willing—or empowered—to accept any tax increases.
The only "compromise", according to Norquist, that Boehner would be able to accept—he did not clarify if this was from political pressure or due to Boehner holding views he was not making clear during the negotiations toward a "grand bargain". Norquist all but admitted that the entire debt ceiling negotiation process is an electoral maneuver, designed to harm the Democratic party, possibly by harming the nation, to elect more Republicans to Congress and to take control of the White House.