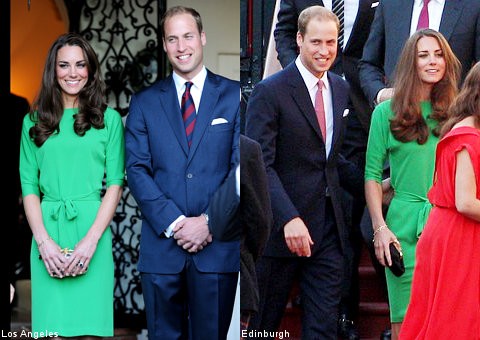 Kate Middleton has pulled another outfit repeat for Zara Phillips and Mike Tindall's pre-wedding party. Joining husband Prince William and other guests at the Friday, July 29 bash, the Duchess of Cambridge looked lovely in the same emerald green dress she wore for an event in Los Angeles
earlier the same month.
Boarding the Royal Yacht Brittania in Edinburgh, Scotland, the 29-year-old gave a look at the delicate buttons that run down the back of her silk Diane von Furstenberg "Maja" dress. While she recycled the dress, the older sister of Pippa Middleton did trade the black pumps she wore for her L.A. appearance with a pair of nude heels.
This isn't the first time Kate re-wore an outfit. An official photo of her and William for their North American tour had uncovered that she donned the same navy blue suit she wore when visiting Blackburn and Darwen on April 11, just weeks before her April 29 wedding to the British royal.
Zara Phillips herself is William's cousin and the eldest granddaughter of Queen Elizabeth. The 30-year-old daughter of Princess Anne will tie thehnot
with rugby player Mike Tindall on Saturday, July 30. It is reported that the ceremony will begin at 3 P.M. at Cannongate Kirk church in Edinburgh.
On Friday evening after a formal rehearsal for the wedding ceremony, Zara and Mike hosted the cocktail party aboard the Royal Yacht Brittania. They were joined by family and friends, including Zara's father, Captain Mark Phillips and his second wife, Sandy Pflueger, as well as Prince Harry, Princess Beatrice and Princess Eugenie.